Taking on Sports Drinks Incumbents: Q&A with Hydrant as Brand Launches Series A
by Hugh Williams on 7th May 2020 in News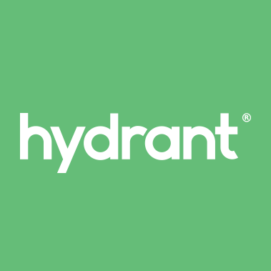 In this Q&A, FastGrowthBrands speaks to John Sherwin and Jai Jung Kim, co-founders of wellness brand Hydrant, as their company closes its USD$5.7m Series A fundraise. Here, the two discuss why they have decided now is the time to raise funds, what the money will be used for and how they are challenging the consumer wellness space. 
Can you introduce Hydrant, and the space in the market you are looking to fill? 
Hydrant is a consumer wellness brand helping to bring proper hydration to the forefront of one's daily routine in order to live a more healthy lifestyle. With two product lines, Rapid Hydration and Caffeinated Hydration, Hydrant makes the most effective and convenient electrolyte rehydration powder on the market. Hydrant sits within the USD$28bn global hydration industry and the USD$4.2tn health and wellness category. We are looking to bring meaningful hydration innovation to a market that has, to date, been dominated by sports drinks incumbents, by offering a superior product that takes a minimalist ingredient approach and a world class customer experience.
Why have you decided the time is right to raise money?
There has been a major cultural movement towards holistic wellness and self-care, especially among today's active and on-the-go consumer. As more and more look towards easy ways to maintain a healthy lifestyle and help their bodies be best prepared for what might come its way, now is the perfect time to educate and empower consumers to make hydration a habit, especially as we look ahead to how hydration can also be a conduit to other beneficial, functional use cases.
How will the money be used to support your growth? 
We will be using this new round of capital to grow four main functions within the Hydrant business operations. First is growing a world class team. In building this business, we quickly realised that your team is a key indicator of success, so it's important for us to find individuals that may not necessarily have CPG experience, but those that have an innate drive and curiosity for this type of business. Second is supporting our go-to-market strategy through successful launches across our retail channels. Third is investing in new product innovation, and lastly, we look to double down on analytics that support our data-driven DNA and cultural value.
How is Hydrant managing to differentiate from other players in the hydration industry?
Backed by scientific research, Hydrant's proprietary formula utilises minimal ingredients to make it work fast and taste delicious for Americans to use throughout the day to stay hydrated. Hydrant prioritises using natural ingredients and a reduced amount of sugar to create a real taste where possible, along with caffeine enhancements in some of its products to give consumers an extra energy boost. It's important to us as a brand that we only include ingredients that make sense, nothing superfluous. We are removing the noise. Further, in a conscious effort to be more sustainable, our consumers are using less single-use plastic by adding Hydrant into reusable bottles and cups.
What does the future hold for you guys?
With this influx of new capital, Hydrant will continue to provide better-for-you alternatives to the incumbent rehydration and caffeinated drinks on the market today, while working diligently to expand its team and introduce new hydration-forward products that infuse other premium functional use cases. Understanding the current movement towards preventative and functional wellness rituals, Hydrant will also double down on product educational tools for both customers and non-customers that further illustrate the significance of hydration on the whole self. Towards the end of this year, we also plan to announce some new retail partners that will support in our mission to make proper hydration more accessible than ever before.