Creating the Online Experience, In-Store: Q&A with StickerYou
by Hugh Williams on 3rd Dec 2018 in News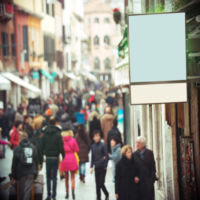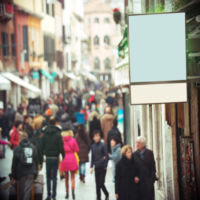 A new trend is emerging in e-commerce: online stores are moving into brick-and-mortar spaces. Advertising rates are rising in an increasingly crowded online marketplace, and retail store rents are dropping as shops go under from the e-commerce onslaught. Savvy e-commerce entrepreneurs are taking advantage of the gap and are opening up for business in brick-and-mortar spaces. In this piece, we speak to Andrew Witkin (pictured below), founder & president, StickerYou, about his business' journey from online to the high street. 
RetailTechNews: Why is opening a physical location the right move for

StickerYou

?
Andrew Witkin: Opening a brick-and-mortar space is worth it for an e-commerce enterprise, if the business model supports it. At StickerYou, our product (customised die-cut stickers, labels, decals, temporary tattoos, etc.)  is tangible. It's an in-person experience that can't be replicated or fully appreciated online. In a physical store, people have the opportunity to touch and feel the quality of our product; and we plan to expose them to the many ways our products can be used creatively, to spark imagination and consideration of how they might use our custom products for themselves. The search experience through readymade stickers will be a more memorable one. It will be a panoramic visual experience, kind of like searching through records in a bin and discovering something new you didn't know you were looking for.
Opening a physical location is part of a larger marketing strategy in which we expect to see this increase in brand awareness translate into an uptick in online sales, in addition to sales in the brick-and-mortar space itself.
What are the challenges for an online brand opening a physical location? How have
you

overcome these?

I believe one of the challenges in opening a physical location can be building the awareness in the local market of your location. Fortunately for us, we already have thousands of customers in our local market, so they will be made aware of the physical store's unique presence via e-mail and social media to come and experience it for themselves. One other challenge can be standing out amongst a lot of great-looking retail stores. Since stickers and decals are in and of themselves physical mediums to advertise, we are going to create a store-front display that is both eye-catching and a reinforcement of what you can do with decals (for example, displaying outdoor brick decals, or window decals). Instead of the storefront just being signage to attract people into the store, it will also reinforce what any retailer could do by using our production medium.
Do
you

think opening a physical location is something more direct-to-consumer brands will look to do in the future? If so, why?

Many retailers are currently looking at omnichannel merchandising as being a better holistic customer solution. Smaller online retail stores are considering a physical store as part of a larger marketing, interactive, and unique trial experience. The shift towards omnichannel is already being adopted by giants such as Amazon, but also mid-range companies such as Warby Parker, Shopify, and Casper; and will likely continue be adopted by small to medium-sized business across the retail and e-commerce landscape.

For brands with products that have qualities that can be highlighted by in-person experiences, an omnichannel strategy makes sense. In many places in North America, a corresponding dip in retail rents and possible reductions in the lengths of lease agreement terms, due to retail locations closing, may also be an advantage in pursuing an omnichannel strategy.

The economics of a marketing ROI may be enhanced for businesses entering an omnichannel strategy from an e-commerce-only standpoint. Landlords may be more open to pop-up concepts or shorter term rent deals, meaning a lower risk to test out a brick-and-mortar space. The ROI from the awareness created with a brick-and-mortar store, including drop-ins, walk-by traffic, etc., can be viewed against sales from the physical location, as well as incremental increases in online sales. Even if the store operates at a loss, it can be worth the investment from a marketing perspective, if the impressions generated or incremental traffic to the website comes in at a lower cost per click than what would otherwise be spent with the same funds for just online advertising.
What does this mean for the future of the high street? Will brands that are currently online only replace older, established brands?
I believe there will be many more omnichannel physical retail stores in the future, given the thousands of online-only e-commerce stores in existence. I don't believe the omninchannel physical retail locations for each company will comprise of as many stores as a traditional physical retail store chain would have developed. Look at how stores such as The Gap are reducing their physical retail store base. The e-commerce retailers setting up a physical store footprint will likely only need a fraction of the number of stores (e.g. one to three stores per major market, instead of five to seven) that traditional chains needed. Thus, for every five e-commerce-only stores that create a physical retail base, there might be a national chain retailer that either closes or reduces their physical store footprints. What the consumer should see is a lot more variety in the kinds of stores they can shop in.
How do
you

think the opening of physical stores will affect your relationship with your customer base?

We anticipate that it will create a stronger connection between our customer base and StickerYou, and will open up new opportunities for customers to interact with and use our products. One of the unique things about what StickerYou offers is that our products are a blank canvas for our customers to use to create what they need, from business branding to personal expression. Being able to see examples of what others have done in a personal, interactive experience will solidify a creative connection between our customers and StickerYou.

This content was originally published in RetailTechNews.