Top 4 SEO Game Changers Retailers Need to Consider in 2019
by Romany Reagan on 10th Jan 2019 in News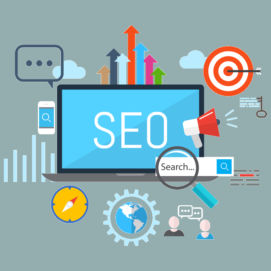 In this piece for RetailTechNews, Chris Simmance (pictured below), managing director, Optus Digital, breaks down the SEO Game changers retailers need to consider in 2019.
The SEO landscape is always changing and market pressure on Google is showing no signs of easing off as we enter the new year. Google is continuing to invest heavily in its services and SEOs are continuously adapting to the changes that follow. Some changes are minor, of course, and unlikely to make much of a difference to the way businesses roll out their SEO strategies this year; however, there are some major trends that will have a significant impact on SEO campaigns. These will matter most to all online businesses and are the ones that you should now be gearing up for. Here are the top 4 for 2019.
1) Mobile-first indexing
Google uses the mobile version of your page for indexing and ranking. It began migrating sites to a mobile-first index earlier this year. It means that Google now crawls every website's mobile web pages to establish its search engine rankings before it crawls desktop web pages. Essentially, you should start thinking of the mobile version of your site as the primary version.
If your content is optimised for mobile, and your site is responsive, you shouldn't experience any significant changes. Put simply, it means that in 2019 you need to be mobile-friendly. Your site needs to be responsive and load quickly. There are many tools available such as PageSpeed Insights to check your page load speeds and plenty of tools that enable you to monitor and make sure that the user experience is seamless.
2) The Amazon effect
By this, I mean Amazon search. OK, so it's not a universal search engine, it's used for internal search within the company's pages; but the thing is, more and more people now jump straight to Amazon to do their shopping. According to Bloomberg more than 50% of shoppers turn to Amazon first when searching for products; and half check in with them after finding something elsewhere. What this means is that if you're a fashion retailer, and you're not on Amazon, you are missing these potential customers. By researching keywords on Amazon, (tools like Rank Tracker can help you with this), you'll be able to see what's ranking and include optimisation for Amazon into your SEO strategy.
3) Voice search
Voice search will be among the biggest SEO trends this year. More people are using devices like Alexa and Google Home to search the web, but the biggest change is the way they phrase things. Spoken search is very different to the way people type them out. According to eMarketer, more than 35 million Americans used a voice-activated assistant device at least once a month last year and comScore estimates that by 2020 more than half of all searches will be done via voice search. The fact that neither Google, Amazon, or Apple share all of their data means that this may well be the tip of the iceberg. Voice searches have results in SERPs (search engine results page). In fact, a query across voice can lead to a SERP with ads being served, so it's starting to make an impact.
This means that if you've been optimising your website's content around keyword metrics that are built on how users type, when they switch to voice search, the value of those keywords will go down and new, similar keywords will go up. That could mean needing to revamp your whole SEO strategy.
4) Image search
A couple of years ago, Google significantly upgraded its image search, which meant that many sites struggled with traffic losses as users no longer needed to leave Google to view them. They simply went through them like a picture gallery. According to eMarketer 72% of search engine users regularly search for images before making a purchase. That means many of your organic visitors likely started with an image search.
Good images provide a chance to get in front of potential buyers; and it's possible to have a product image rank high in Google's image search before your product page ever ranks in regular SEO results. Users can click on 'visit page' or the image and be taken directly to the webpage that houses the image. That puts your brand, your product, and your service in front of an audience that may have never found that webpage elsewhere. So, focus on optimising your images this year. It will significantly increase your site visitors.
2019 will be no different to any other year, as far as SEO is concerned. It is constantly changing. As you prepare and plan for the year ahead, bear these key changes in mind, as they will be game changers for your business.