Becoming a Store of the Future – What's Stopping You?
by Hugh Williams on 9th Apr 2018 in News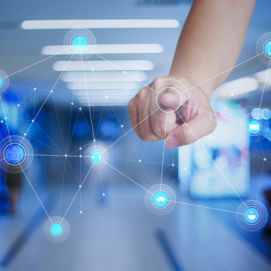 The world of retail has reached a tipping point in the last few years. High-street retailers have been suffering at the hands of e-commerce; and the situation shows no sign of improving as we move further into 2018, with Toys R Us and Maplin both falling into administration. In this piece, Nick East, CEO, Zynstra, analyses what it means to be a store of the future, and how retailers need to change to meet this goal.
In a bid to deliver a new lease of life to the high street, retailers are focusing their efforts on delivering the 'store of the future'. The majority of 'store of the future' concepts centre around the implementation of new technologies that can deliver a more engaging and interactive shopping experience for consumers and, consequently, redefine the role of the store as part of a more complete buying journey. But being able to take advantage of these technologies relies upon an in-store IT infrastructure that is agile enough to meet shoppers' demands, and flexible enough to launch new services in response to business and customer needs.
This is why the retail IT battleground has moved to what is known as 'the retail edge': in the store where retailers and customers come together face-to-face. In the past, the all-consuming attention on the online battleground has come at the cost of the retail edge. From the Internet of Things, to the Amazon Go 'walk in and walk out' store in Seattle, the technological enablement of the retail edge is paramount to future success.
Its potential to rejuvenate traditionally outdated retail stores is also clear. Convenience stores, for example, are increasingly sophisticated retail outlets and users of technology. But, to date, the technology industry has failed to deliver the solutions that drive the levels of operational efficiency and dynamic customer experience required.
Therefore, if retailers are to turn their 'store of the future' visions into reality, they need to ensure that the distributed store estate is treated as an integrated whole – one that can be deployed, upgraded, managed, and supported as one entity from a central point, rather than as a collection of disparate and dedicated in-store appliances with separate management and support needs.
Achieving this new IT infrastructure approach at the retail edge cannot involve a significant expense. This is a massive consideration for retailers – particularly those in lower margin, high-turnover businesses. Retailers are regularly doing the maths on how many products they need to sell to customers in order to pay for a certain investment; which is why it's important that they look at the total cost of ownership of technology in stores. In particular, they need to assess whether technology can help lower the store's bill of materials, while improving the cost of helping customers to transact.
In particular, the technology required at the retail edge must demonstrate several key characteristics if it is to enable the cost-effective and pragmatic delivery of the store of the future.
Virtualisation
This is a base level requirement for the store of the future. It enables multiple applications, supporting multiple customer services, to be run in the store, removing the need for dedicated hardware, thereby reducing the in-store bill of materials and removing a cost barrier to the introduction of new services.
However, when looking at retail, specific virtualisation requirements are evident. Firstly, it must be possible to not only virtualise back-office and customer applications, but also existing POS terminals and next-generation terminals as required, including tablets and mobiles. Secondly, all peripheral hardware must also be virtualised, and, finally, the virtualisation itself must be centrally managed and controlled.
These very specific retail requirements mean that neither traditional data centre virtualisation solutions, nor traditional hosted desktop solutions, are suitable and that a solution specifically designed for retail is required.
In-store, not in-cloud
Some retailers have dreamt of the store of the future as an IT-free environment and, as a result, have looked at moving all processing to the cloud. However, the dependence on cloud availability and the issues around latency are simply too high a risk, particularly for POS and other transaction-critical applications.
We are also living in an age when large volumes of data need to be processed securely in real time, and this can often be best achieved onsite.
Centralised management & control
Centralised prototyping, provisioning, monitoring, updating, and patching are all key to delivering the savings all retail investments demand. A reduced bill of IT materials to reduce complexity, and efficient central support mechanisms to vastly reduce store visits by IT staff, are fundamental issues for a modern retail IT infrastructure.
Security & compliance
Cyber security is a huge problem – particularly for those responsible for a distributed branch environment – and they are increased yet further when the onerous requirements of PCI-DSS are taken into account. The retail store is a hostile environment; and the distributed nature of store IT presents a unique set of challenges. Retailers are constantly seeking ways to decrease downtime, increase reliability, and be more secure.
To achieve this, retailers need to consider a new approach, one that takes the load off IT teams and increases cyber resilience and compliance throughout the end-to-end solution. This must not only use the latest cyber security capabilities, but must also regularly apply security patches and updates. However, when it comes to patching, there is a complex supply chain that needs to be built and maintained upstream of any deployed systems.
In order to reduce the risk of systems failing as a part of the patch process, and make the task manageable, production engineering methods must be at the heart of any viable solution.
Retailers have a lot to consider in their journey to creating the store of the future. It needs to be able to meet ever-increasing consumer demands regarding levels of service and in-store innovation, while simultaneously delivering cost-savings and immediate ROI from a business perspective.
This balance is not easily struck. While the adoption of technology can help, retailers must adopt a new mindset that involves intelligent, automated edge technology to provide a consistent, secure, and cost-effective approach – an approach that ultimately reduces the store infrastructure and operating costs significantly, while increasing performance. Other alternatives, such as stretching generic data centre technology to fit the edge, or patching up legacy edge computer assets residing in the store, simply don't fit the bill.
Most importantly, this is not something for retailers to keep in mind for the future – this change is happening now. 2018 will be a crucial year for retailers looking to evolve their physical stores, and those that are slower off the mark could well lose out.