Millennials Reward Great Mobile Experience; Carrefour Launches Food Blockchain Technology
by Sonja Kroll on 8th Mar 2018 in News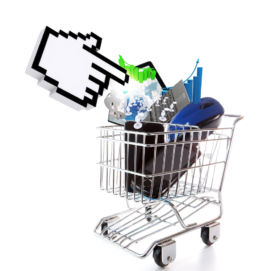 RetailTechNews rounds up some of the biggest stories in the European retail technology space. In this week's edition: Mobile Experience Rules; Carrefour Invests in Blockchain; and Online Sales Growth Trumps Food Sales Growth.
Mobile Experience Rules
The better the mobile experience, the more likely the consumer is to spend more on products or services. That is a key finding from Worldpay's latest global report on mobile consumer spending. The Mobile Payment Journey study polled more than 16,000 people across 10 markets, diving into consumers' recent mobile payment experiences and spending habits.
Thirty-seven percent of U.S. respondents said they would pay more for a product or service if the mobile shopping experience is better. This approach applies particularly to millennials, who are twice as likely as older consumers (65+) to reward brands with more sales.
"Online merchants that can deliver the right experience have much to gain, as shoppers are making bigger, more valuable purchases via their smartphones and are even happy to spend more with merchants that deliver a better experience", says Shane Happach, executive vice president, head of global enterprise e-commerce, Worldpay. "The beauty of technology advancements means that there are more opportunities for virtual assistants and connected devices to make consumers' lives easier. Brands that focus on offering consumers a five-star personal shopping service from their pockets, and an increasingly invisible checkout process, will see fewer abandoned baskets, more app downloads, and increased sales of more valuable goods and services."
When shopping online via mobile, security concerns are the number one reason for smartphone basket abandonment, the study also finds; 77% of respondents said they only download apps from brands and retailers that they trust.
"Our research reveals that security concerns are the number one reason for smartphone basket abandonment in the U.S. Merchants can help to mitigate shoppers' security fears by providing a mobile payment experience that's quick, seamless, and familiar. This might mean implementing the latest in biometric technology, such as fingerprint scanning and facial recognition, as an extra layer of security, and prioritising healthy user ratings on the app store."
Carrefour Invests in Blockchain
Blockchain technology is making its way into the retail sector. French supermarket giant Carrefour has just announced the launch of their food blockchain technology, designed to reassure consumers on the traceability of produce.
According to Carrefour, blockchain technology is suitable for implementation in food retail because all participants of the supply chain can provide traceability information, including dates, places, distribution channels, and more.
"Blockchain technology will bring numerous benefits to the food sector: it will meet consumers' increasing need for transparency; for farmers, it's a means to showcase what they produce and their expertise", says Carrefour and promises to share the information via secure database with their partners, thus guaranteeing higher levels of food safety for its customers. Consumers access the information via the QR codes displayed on the product labels.
Besides Carrefour, major food producers and retail companies, such as Nestle and Unilever, are currently also exploring the potential of blockchain technology for the retail sector and for food safety.
Online Sales Growth Trumps Food Sales Growth
While UK retail sales in February increased only by 0.6%, compared to February 2017, online sales of non-food products grew 6.4% in February, the BRC-KPMG Retail Sales Monitor finds. The online penetration rate for non-food increased from 20.5% in February 2017 to 21.1% in February 2018. "Online retail appeared to have fared better – with growth across all categories – but the latest figures reinforce an underlying trend of a slow-down in growth online, which prompts concern", says Paul Martin, head of retail, KPMG.
On a total basis, sales rose 1.6% in February, against a growth of 0.4% in February 2017. This is roughly in line with the three-month and 12-month averages of 1.5% and 1.7%, respectively, according to the sales report.
Helen Dickinson OBE, chief executive, British Retail Consortium, warns that inflation is going to continue impacting consumers' spending habits, with more income to be spent on essentials and less spending on non-food retail items: "There's little sign that consumer confidence, rather than financial reality, has much to do with the current weakness in spending. Furniture, often considered the bell weather of consumer confidence, actually saw sales improve in February, as shoppers took advantage of credit facilities offered by retailers. The fact is that consumers want to spend, they just don't have the resources to do so.
"With the upward pressure on prices from the fall in the pound now starting to subside, we expect to see some loosening of the squeeze on spending on non-essentials, but it's likely to come slowly. And so are anticipated increases in wage growth. Crucial for consumers and retailers over the coming months will be a successful outcome to trade negotiations, ensuring that amidst the current difficulties they won't be facing further increases in costs from new tariffs on the everyday goods we import from the EU."